Toothbrush have handle and the bristle,brisle material generally use nylon most, it have normal nylon and have dupont nylon can choose, dupont nylon is biodegradable material, have certificate like below this link:
Bristle: have PBT material,  Dupont Nylon, And normal Nylon.
PBT bristles have properties close to nylon 66 and 612 and are widely used. The water absorption rate is extremely low, which is very suitable for brushes such as wet working environment.
, Polybutylester (PBT) bristles:
1. Features of PBT bristles: 2. Application scope of PBT bristles:
○1 High softness, high resilience and high hardness. ○1 High-end toothbrushes and electric toothbrushes.
○2 Anti-wear and creep resistance. ○2 Bath brush and cosmetic brush.
○3 Good oil resistance and strong stress resistance to organic solvents. ○3 Medical cleaning brush.
○4 Low water absorption and good stability. ○4 Dust removal brush for electrical parts.
○5 Industrial cleaning brush.
PBT bristles have a scientific double-layer bristle structure, which can effectively clean the tooth surface and tooth gaps. The soft bristles will not damage the gums and enamel; the superior PBT fiber has low wear and no deformation, and can be used for a long time; specially added carbon element It has strong adsorption power, releases far infrared rays and negative ions, can effectively eliminate bad breath, prevent the growth of bacteria, and massage the gums to promote gum health.
Product features: 1. No damage to the gums and enamel: The carbon-containing PBT bristles are soft and have a scientific double-layered hair structure. The extremely fine bristles of the inner layer can penetrate into the teeth without hurting the gums and enamel; the outer layer is round The head bristles can remove tartar on the surface of the teeth. 2. No deformation, low abrasion, value use: carbon-containing PBT bristles have good durability, light resistance, heat resistance, abrasion resistance and dimensional stability, and their resilience is also very superior, and the elasticity is not affected by humidity influences. 3. Eliminate bad breath and prevent the growth of bacteria: The carbon element added in the brush line has numerous microporous structures and strong adsorption power, which can effectively eliminate bad breath and prevent the growth of bacteria. 4. Massage the gums to promote gum health: The carbon-containing PBT bristles retain the unique far-infrared rays and negative ions released by carbon, and can effectively massage the gums to promote gum health.
Nylon advantages:
2. High mechanical strength, good toughness, high tensile and compressive strength. The specific tensile strength is higher than that of metals, and the specific compressive strength is about the same as that of metals, but its rigidity is less than that of metals. The tensile strength is close to the yield strength, more than twice as high as ABS. The ability to absorb shock, stress and vibration is strong, and the impact strength is much higher than that of general plastics, and is better than acetal resin.
1. Smooth surface, low friction coefficient and wear resistance. It is self-lubricating when used as a movable mechanical component and has low noise. It can be used without lubricant when the friction is not too high; if lubricant is really needed to reduce friction or help heat dissipation, water, oil, grease, etc. can be selected. Therefore, it has a long service life as a transmission component.
3. Corrosion resistant, very resistant to alkalis and most salt solutions, also resistant to weak acids, engine oils, gasoline, aromatic compounds and general solvents, and inert to aromatic compounds, but not resistant to strong acids and oxidants. It can resist the erosion of gasoline, oil, fat, alcohol, weak base, etc. and has good anti-aging ability. It can be used as packaging material for lubricating oil and fuel.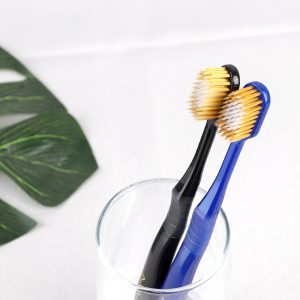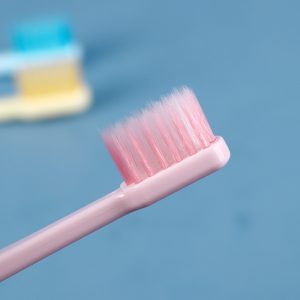 And dupont nylon Specifications:
Handle: we have bamboo, plastic and metal Silica gel these material,   plastic and bamboo use most: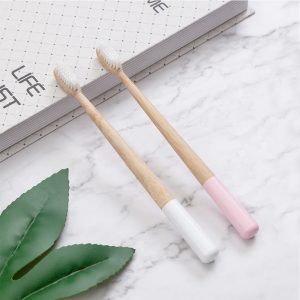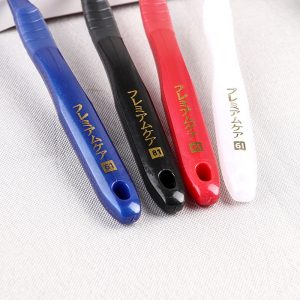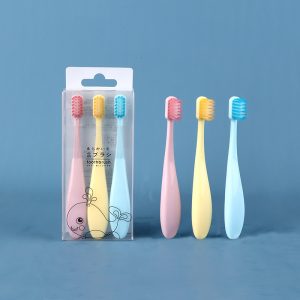 Bamboo handle advantage
Strong toughness and abrasion resistance, unique resilience; soft and smooth
The cross-section of bamboo bristles is covered with large and small oval pores, which can instantly absorb and evaporate a large amount of water.
The tea polyphenols in the compound bristles contain lactic acid bacteria and other dental caries bacteria that can kill the lactic acid bacteria and other dental caries bacteria that exist in the interdental teeth, and have the effect of inhibiting the activity of glucose polymerase, so that glucose cannot polymerize on the bacteria surface, so that the bacteria cannot implant on the teeth. , So that the process of caries formation is interrupted.
Features
It is a fully biodegradable toothbrush, which meets the current requirements of green, environmental protection and low carbon.
Advantages of plastic toothbrushes
Cheap price, fashionable style, better quality, will not rot, etc.