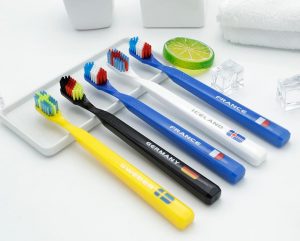 1. Customer provides product demand (brand, style quantity, etc.)
2, determine the custom quantity, material requirements and whether to invoice (VAT, ordinary invoice) accounting price, quote!
3. Provide product design materials, transfer to the design department, design according to the materials provided by customers, communicate at any time, and design is satisfactory!
4. Determine the design draft, sign the product order contract, and pay the deposit (50% of the total amount of the payment) to Alipay, or personal account, company account.
5, the workshop starts production ([naked brush] takes 3-7 days, [packaging] takes 20-30 days, the production can not be interrupted, such as interrupting the change deposit and the goods are not refundable).
6, the number of machine points after production and shipment, after the total number, the phone or Want Want and other online chat tools for customer notification (production quantity will have ± 2% error (less refund more) 7, the final payment, (Alipay, Bank card, company household) After the financial determination of the payment, the logistics distribution is carried out, and the customer is issued to the city.
8. If the customer has received logistics damage and quality problems after receiving the goods, please give us a call in time, we will solve it all!