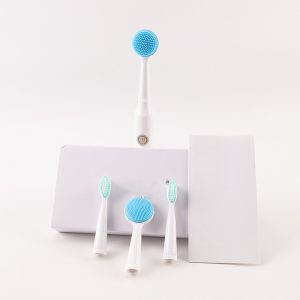 1. Install the brush head. Insert the brush head tightly into the toothbrush shaft until the brush head is engaged with the metal shaft.
2. Adjust the softness of the brush with warm water: warm water: soft; cold water: moderate, ice water: slightly hard. It is strongly recommended that the first time users use warm water (less than 40 ° C) before using! The bristles after soaking in warm water are very supple and feel very comfortable to brush. After using the habit of 2~5 times, the softness of the bristles will be determined according to your preference.
3. How to squeeze toothpaste: Can be used with any brand of toothpaste. Align the toothpaste vertically with the appropriate amount of toothpaste. To avoid splashing the toothpaste, it is best to squeeze the toothpaste before turning on the power.
4. How to brush your teeth effectively: When brushing your teeth, insert the brush head from the thinnest incisors. Hold the teeth in the middle of the bristles and pull them back and forth moderately. After the toothpaste is foamed, turn on the electric switch. After the brush head vibrates, apply a moderate force. Move the toothbrush back and forth from the front teeth to the back teeth to clean all the teeth! In general, brushing your teeth with an electric toothbrush takes only two minutes to clean thoroughly.
5, how to use the tongue scraper: After brushing the teeth, it is best to use the scraping tongue on the back of the brush head to scrape off the tongue coating on the tongue to achieve the effect of thoroughly cleaning the tongue.
6. To avoid foam splashing, turn off the power to the toothbrush before removing it from your mouth.
7. How to clean the toothbrush hair: After each brushing, put the brush head into the water, turn on the electric switch, gently shake it a few times, then tap the brush head to wash the foreign matter and toothpaste remaining on the bristles.