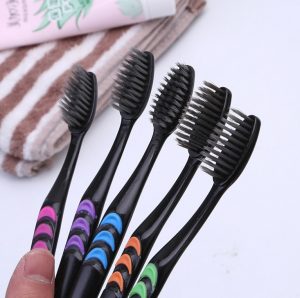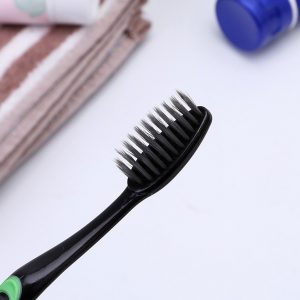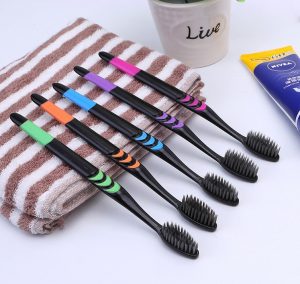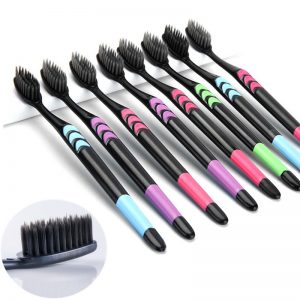 Product Details
Product Name:
Household bamboo charcoal toothbrush
Color:
Customized color
Age Group:
Adult
Material:
Charcoal Fiber
Place of origin:
Ningbo,China
Packing:
Carton,OPP Bag or customized
Use:
Cleaning teeth
Feature:
Green, Healthy, Effective, Clean and Soft Brush Head
Each toothbrush has its own unique texture, simple and extraordinary, natural selection, meticulous anti-skid design, ergonomic, comfortable grip feeling. Fine brush head evenly disperses gingival pressure, protects gingiva and improves gingival discomfort. Selected fine silk fur can deeply clean the gingiva and crevices, and deeply clean the mouth. The handle is close to the skin and skid-proof design, which saves labour and effort when brushing teeth. Hollow handle tail design, easy to hang and dry when not in use.

The fine soft hair of bamboo charcoal toothbrush can penetrate into every crack that ordinary brush can't touch, and it can be deeply cleaned. The soft bamboo charcoal toothbrush with strong adsorption ability can protect gums from injury. Elegant design, simple and fresh, 4 more practical. Carry different colours according to different scenes/let your mood choose more. Brush capillary and soft, enhance cleanliness. With toothbrush cover, it is convenient, clean and hygienic to carry. Streamlined handle, easy to handle, anti-skid. Brush capillary and soft, enhance cleanliness. PBT sharpens the tips, brushes the capillaries tightly and softly, and gives the teeth soft care. Streamlined handle, hand-to-hand design, easy to handle, anti-skid.